How to install BigBoss Repo to Cydia
Steps to Add BigBoss Repo to Cydia without SSH:
Open Cydia on your jailbroken iDevice.
lets see How to install BigBoss Repo to Cydia.
Below is the full list of Cydia and Installer.app source URLs for installing native apps on your iPhone or iPod touch. Add any of the below URLs as a source in Installer.app or Cydia and discover new mods, tweaks, themes, and apps that you can download and install. Each source maintains their own list of apps that when added become available for you to install via Cydia.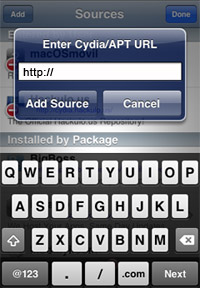 How To add a new source to Cydia
1) Open Cydia
2) Manage
3) Sources
5) Edit
6) Add
7) Type the URL and tap Add Source
See below for a video on how to use these. Would you like to see your repository added here?
Big Boss http://apt.thebigboss.org/repofiles/cydia/ (Update: BigBoss is having server issues right now due to huge demand. Will be back up once traffic dies down. Details from BigBoss on Twiter)
Top 15 Cydia Sources
2)Tap on the 'Manage' tab at the bottom Cydia.
3) Click on 'Sources' tab and select 'Telesphoreo Tangelo' from the repo list. At this step if 'Telesphoreo Tangelo' is missing from your Cydia, you have to add it using this tutorial.
4)  Scroll down to letter 'B' in the repo directory and choose 'BigBoss's Source' as shown in the screenshot below:
5) To install BisBoss source, click on the 'Install' button on the top-right.
6) Done (install updates version)
OPTION 2
You cannot add repositories that require components to be defined.
Edit this file as follows:
/etc/apt/sources.list.d/cydia.list
Add under the last line
deb http://apt.thebigboss.org/repofiles/cydia/ stable main

You can do this with iFile